Steele Hill History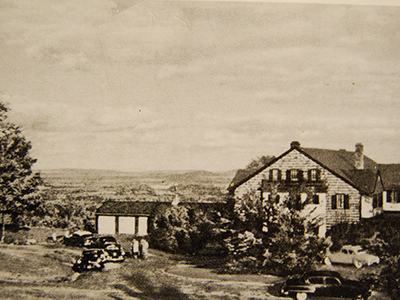 Our story began 80 years ago, in 1937. It was in this year that Nelson Smith, a Boston Jeweler, purchased the Steele Hill dairy farm with the goal of becoming a farmer, and to build an inn to share the surrounding beauty of the countryside with others. Following the devastating hurricane of 1938 that ravaged New England, Smith saw the abundance of downed timber on his newly purchased land as an opportunity to get in on the tourism business and constructed a saw mill onsite to facilitate in the building of the original Inn building. If you're sitting in the Hilltop Restaurant or Tova's Tavern right now, you are benefiting from Smith's use of that fallen timber. Construction on the original Inn at Steele Hill, as it was then known, provided a much-needed boost to the local economy in the years following the great depression. Matching its rustic country architecture with an abundance of amenities and spectacular views of the lakes and mountains below, the Inn soon became a popular location for tourists.
The Inn was completed in 1941 and was originally opened as an exclusive New Hampshire resort for affluent Boston families. Nelson Smith passed away in 1948 and James B Dodge purchased it in 1950, continuing the policy of catering only to the affluent. It wasn't until 1965 when the Conklin family purchased the Inn that Steele Hill was opened to the general public. Three years later it was sold again, this time to Ralph Cutillo, and it has been in the Cutillo family ever since.
The resort at Steele Hill has come a long way since the Hurricane of 1938. The East Wing was added in 1978 and the West Building with an indoor amenities center and pools was completed in 1987. The first building at Steele Hill South, was finished in 2007 and the second completed in 2014.
The development of the resort has followed in the footsteps of Smith's original vision. Many of today's guests share the same desire to relax in a country setting as visitors from years past.
Stress Less. Vacation More.
As a member of Path Vacations, you will enjoy exceptional accommodations and hospitality as well as flexible booking options that fit your travel style. Relax, unwind, and reset year after year amidst the magnificent beauty of the Lakes Region and beyond. Become a member and start creating vacation memories that last a lifetime.